Chain Automatic Oiling Device
String-like Oiling Device ES/GM
Features
There are no worries of oiling deficiency.
There are no worries of oil drip and scattering.
You can expect longer operating life without trouble, since it does not touch the chain.
It is possible to conduct automatic oiling, at the minimum required amount when necessary,
within a definite period of time.
It can correspond to a wide range of oil types and viscosity changes.
It is economical, since one device can oil 8 places.
Management is easy, since the power source is electricity only.
General Drawing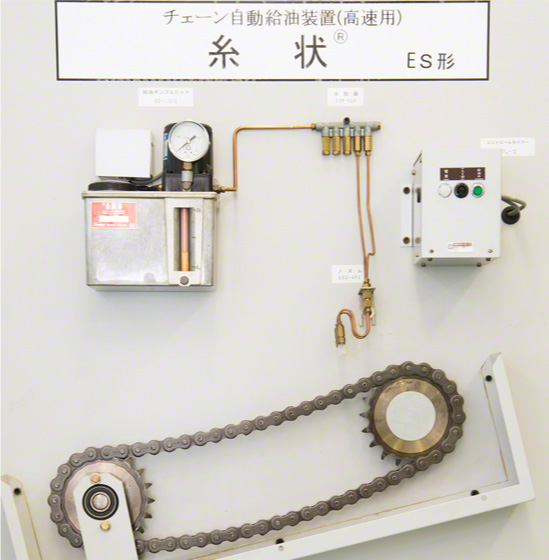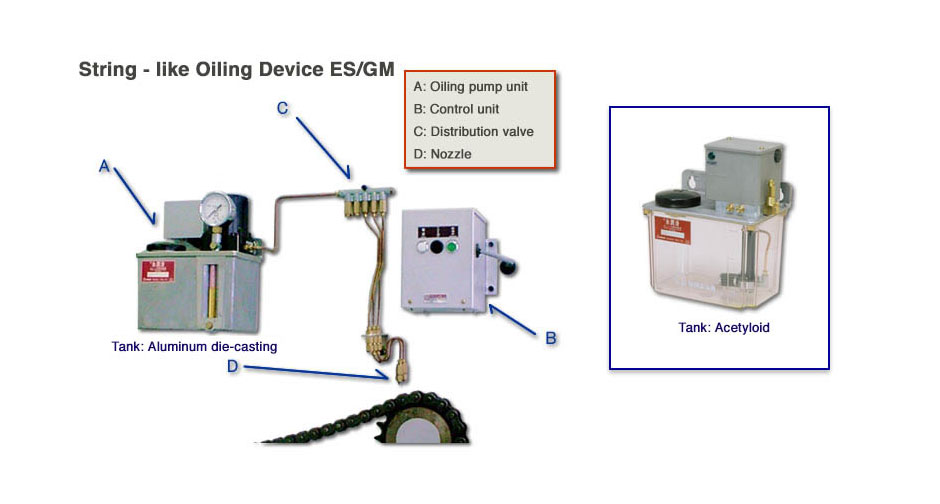 Lubrication Specification
Lubrication Method
"String lubrication method" oils by pouring down string oil on the lubrication point of the chain. It is controlled either manually, or by operating the push button switch, or automatically by using the control timer.
Oiling Quantity
5-15㎤/min (1 place)
Oiling Capacity
Up to 8 places. However, capacity can be increased, by increasing the discharge volume and pressure of the oil pump.
Pressure Control
ES type 0.7MPa~2MPa
GM type 0.5MPa~1MPa
Kinematic
Viscosity Range
ES type 20~2000㎟/s
GM type 20~500㎟/s
Piping Capacity
Main pipe (Φ 6✕4) = up to 15m
Branch pipe (Φ 4✕2) = up to 1.5m
Control


(Control Unit)

Oiling time exclusive type – Oiling time for all links is set in advance, and oiling will automatically stop after the predetermined set time elapses.
Oiling time accumulation type (option) – Only oiling time is counter accumulated.
Return to
Product Information page